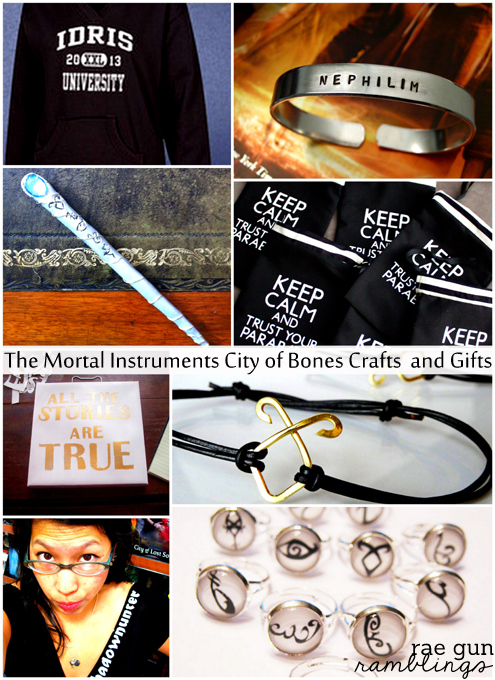 Idris University Sweatshirt Tutorial ● Nephilim Bracelet ● Steele Tutorial ● Parabatai Bag Tutorial
All the Stories Are True Sign Tutorial ● Angelic Power Leather Bracelet ● Shadowhunter Shirt Tutorial ● Rune Rings
update: the cute shop owner who makes the angelic power leather bracelets is offering free domestic shipping if you order the bracelet featured above and write "raegun reader" in the notes section of your order and she said she'll refund shipping. So sweet right?
So sorry for missing last week's party gang, I had a super busy evening and by the time I got to the computer I was feeling pretty crummy. But I hope you will link up double (whatever you were going to link up last week and this week)! Since I'm insanely excited about the City of Bones movie coming out tomorrow. I'm sharing some of my favorite Mortal Instruments Crafts and Gifts that I've found around the interweb. And I would be lying if I said I didn't have a few more half done in my craft room ;)
If you would like to add my blog to a blog reader I've used both feedly (a firefox add-on just search raegunramblings.com) and bloglovin and both of these have a way to simply import all your Google Reader blogs. Or if you want to follow my RSS feed another way here's my direct link to my feed .
If you want to receive my blog posts directly to your email you can do that through feedburner.
Let's see what you've been creating, cooking, eating, wearing, reading, all of it! And if you don't see the linky try refreshing the page.
Fine Print:
Please be a follower
I'd love you to add my
button
or somehow link back to me.
Link as many posts as you want (I don't mind if they are older posts).
Please visit a couple of the other people who have linked up.
*if you don't see the linky try refreshing*
Please Note: I will not be sending reminder emails about the party any longer. hopefully having my button, following, subscribing or something else can serve as your reminder.
Let's connect! You can also find me hanging out here.