Sometimes I'm completely blown away by how fast Pinterest popped up and ingrained itself in our lives. Remember when you visited blog after blog and saved pictures but didn't remember to save where they were from? Or you'd search google desperately for ideas for that party? I personally love how I can have such organized bookmarks with Pinterest.
For example as we approach Super Bowl Sunday, I really don't care about the game but I do care about having yummy party food. So I love that I can go to my Food: Appetizer, Dips and Other Party Food board and easily find all kinds of new recipes I've been saving up to try. And I'm not going to lie apps are probably my favorite type of food ever so I definitely peek at that board more than just for the Super Bowl :)
I have over 100 boards that range from ideas for each holiday every kind of craft, many fandoms (even ones I haven't gotten into yet haha), and of course food! I was excited when I was given the chance to pick a feature for Pinterest Feature Friday that Malia from Yesterday on Tuesday, Bev from Flamingos Toes, and Michele from The Scrap Shoppe Blog host every week. Hop on over to see who I featured and her awesome boards.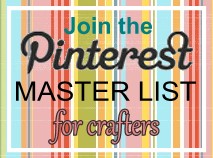 Also you can sign up to be on the Pinterest Master List too and have a chance to be featured yourself! I hope you'll follow me on Pinterest if you haven't already. And happy pinning.
Let's connect! You can also find me hanging out here.