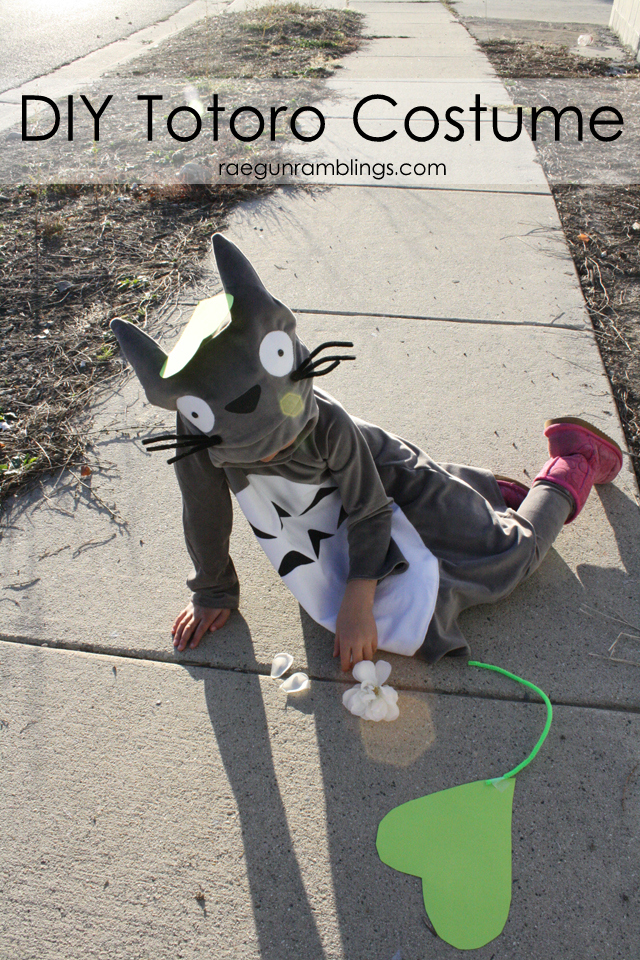 Today I'm sharing how to make a Totoro costume. My niece L is a HUGGGGGE Totoro fan and last year she was the cutest Totoro for Halloween. The costume was really easy. Don't know Totoro? It's a super cute movie. Learn more here. Of course I was sewing it (and her sister's butterfly costume) the day before she needed to wear it so I didn't do the best job of taking process pictures but I'm going to give you a basic run down on how to make your own Totoro. Because really it's not too complicated.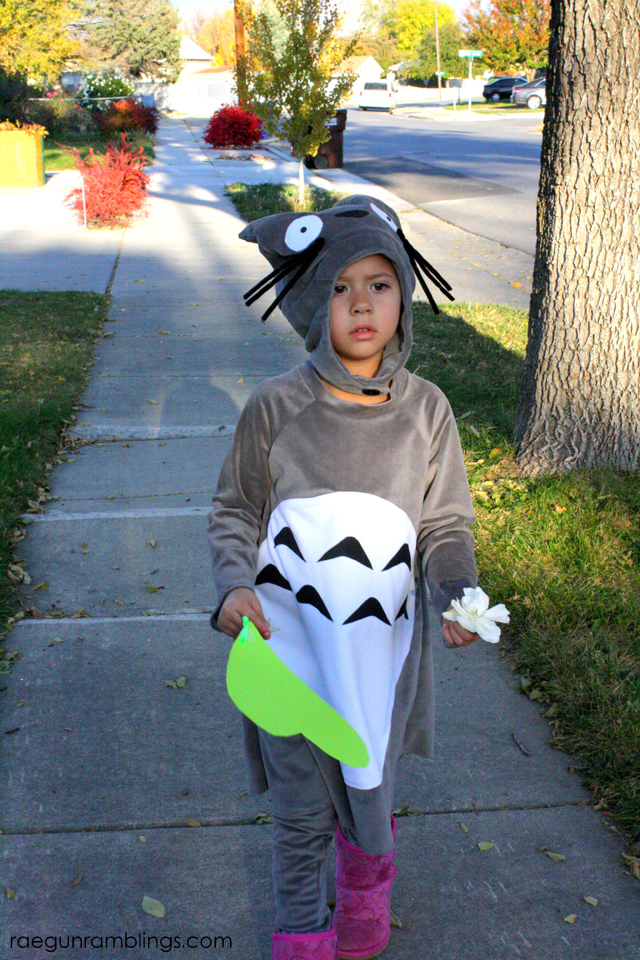 What You Need
Gray Fabric (I used a slightly stretchy fabric with a short pile. It wasn't velour but kinda like that)
White Fabric
Black Fabric
Heat Bond
2 small Black buttons
Black pipe cleaners
Loose fitting shirt (to use as pattern) or tee shirt pattern
Hat pattern (I used this one)
Batting
Gray Pants/Leggings or more gray fabric and your favorite easy pants pattern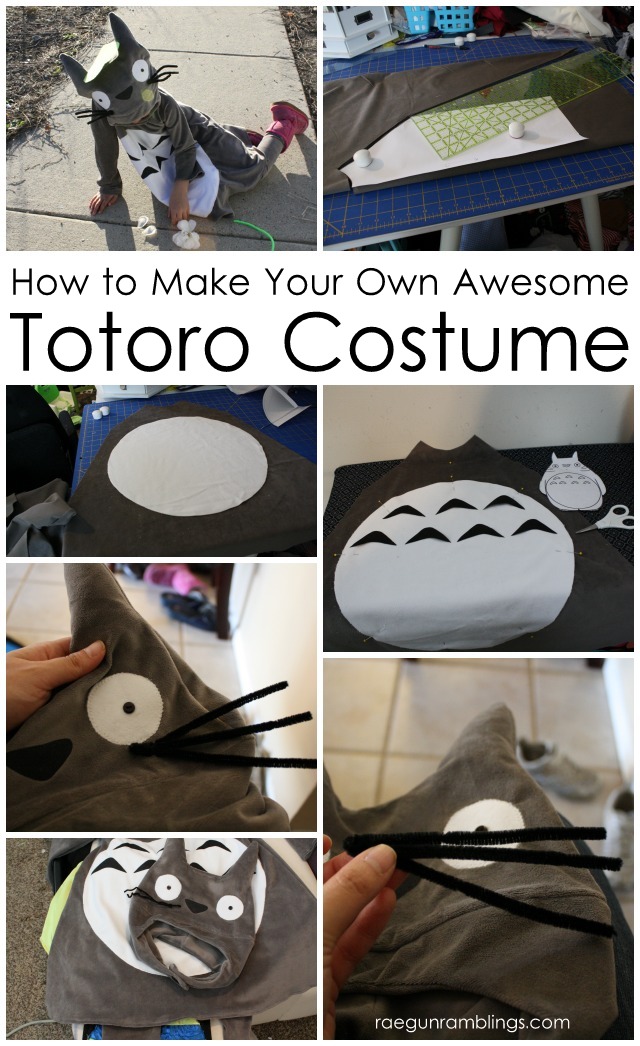 Make your dress/tunic pattern. I did this by tracing a top that fit L and then angling out from the armpit. But you can easily use a basic top or dress pattern. Or you can even use a gray shirt or dress. I used Craftiness is Not Optional's Raglan Tee Tutorial to make my basic pattern.
Cut the white tummy piece. It should be a basic white circle.
Sew the white tummy piece onto the front bodice piece of the shirt. I used a zig zag stitch around the edge.
Make the little black marks. I used black quilting cotton and heat bond to make iron-on fabric but you could also use iron-on vinyl if you have that laying around. But out the little boomerang looking shapes. Position on white circle and iron on.
Finish putting together the shirt.
Make your hat pattern by extending the normal hat pattern up and making ears. Besides that it's pretty basic. You could use a number of different types of winter hats you just need to extend the hat up and make ears so if it has you pleating the top or anything like that you can skip that. Just use something basic like this just make sure your fabric is stretchy enough or that you cut it a bigger size. Once your hat is made just shove a bunch of batting up into the ears to help it stand up
The eyes are white circles that you can make like the black marks (either with fabric and heat bond or vinyl). Then sew buttons on for the pupils.
Make a black nose and sew on some folded pipe cleaners (I had to attach them in a few spots) and you're good to go.
Make your gray pants/leggings according to the pattern directions.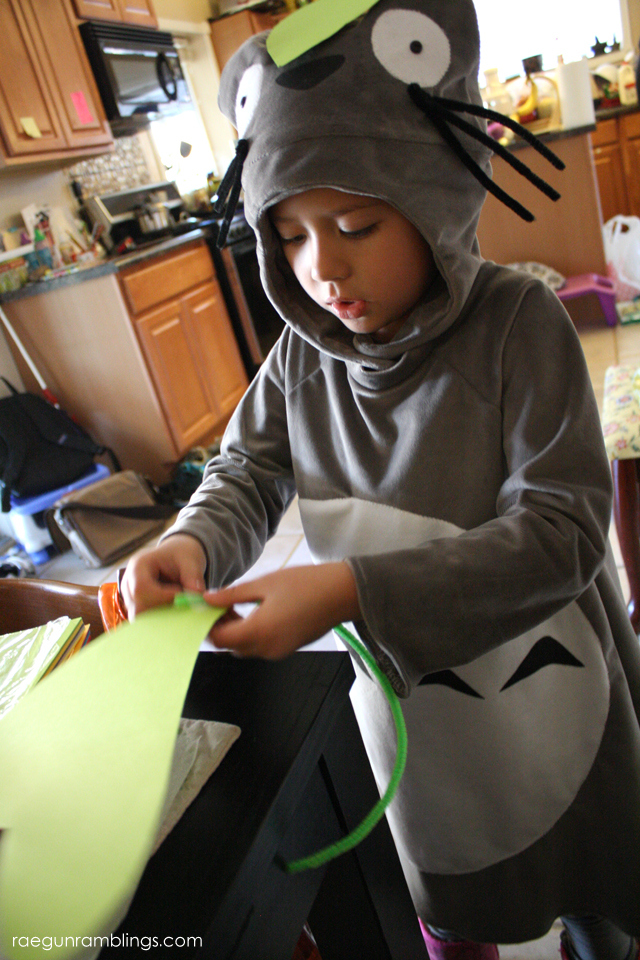 Finally Totoro isn't complete without some leaves right? Cut out hearts for the leaves and tape on green pipe cleaners for stems. Or just stick a heart on Totoro's head and call it good.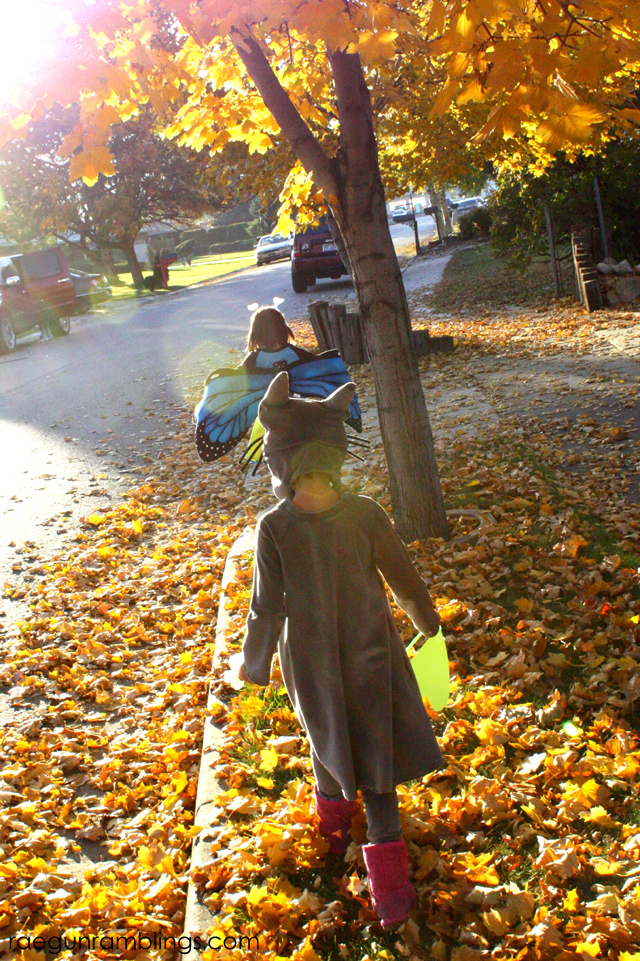 Cutest little Totoro ever right?
I'm sharing this as a part of
Sew Geeky's
Studio Ghibli Month. And let me tell you the other ladies totally ROOOOOCCCCCKED it this month. Make sure to
hop over
and check out the other awesome creations. Click each picture above to check out the stars of this episode of
Sew Geeky
!

Let's connect! You can also find me hanging out here.